Carne Diem
CARNE DIEM
$39.99
MAGNUM CARNE DIEM®:
(96 Capsules/24 Servings)

*INCREASE FAT LOSS
*MAXIMIZE THE UPTAKE OF L-CARNITINE INTO MUSCLE TISSUE
*REDUCE THE HIGH URINARY EXCRETION OF L-CARNITINE
*ENHANCE PUMPS WHILE GETTING LEAN

Carne Diem® is the world's most effective L-Carnitine based fat burner. This product succeeds where current L-Carnitine products have failed.
After a full year of research, Magnum has unlocked the powers of L-Carnitine and solved the low absorbability, transport, and retention issues that have plagued all other L-Carnitine-based products. Carne Diem® allows your body to transport fat to your muscle cells' mitrochondria for use as energy without the need for an insulin spike, unlike other L-Carnitine based products. That means you can stay in a fat burning zone as opposed to a fuel storage zone, which is what happens when the body releases insulin. Carne Diem's secondary ingredients also force your body to choose fat as a fuel source over glycogen, which keeps your muscles full and pumped, even while on a low-calorie diet.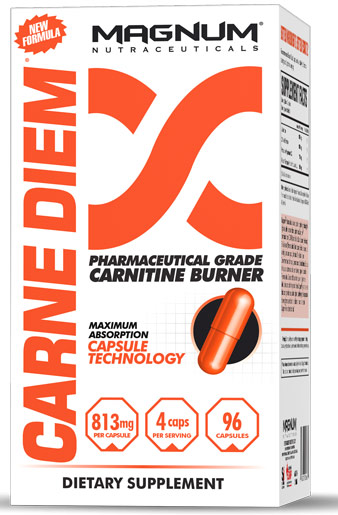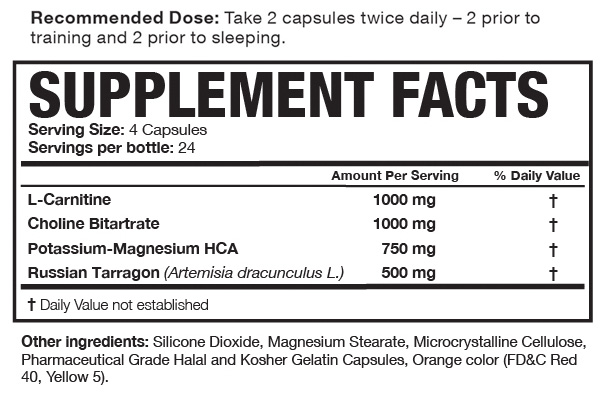 Carne Diem
$46.00
CARNE DIEM®
Magnum Carne Diem® is designed to:

>>Increase Fat Loss
>>Maximize the uptake of L-Carnitine into Muscle Tissue
>>Reduce the high urinary creation of L-Carnitine
>>Enhance Pumps while getting Lean

Key Pharmaceutical Grade Ingredients:

CARNE DIEM'S® THREE-PHASE CARNITINE USAGE SOLUTION: Carne Diem is the only L-Carnitine product in the world to include secondary ingredients that have been proven to improve the three unique L-Carnitine usage issues and maximize L-Carnitine's fat burning effect.
RUSSIAN TARRAGON: Carne Diem increases the uptake of L-Carnitine into muscle tissue in the absence of insulin through the use of this amazing herb. Russian Tarragon has been shown in studies to effectively increase the absorption and utilization of L-Carnitine without the need for insulin, which leaves you in a fat burning state.
CHOLINE BITARTRATE: Carne Diem alters tissue retention and compartmentalization of L-Carnitine with Choline Bitartrate by reducing the high urinary excretion of L-Carnitine, which has always been the drawback with L-Carnitine supplementation. By formulating Carne Diem in a 1 to 1 ratio of Choline to L-Carnitine we get a much better fat burning experience with only 1g of L-Carnitine.
POTASSIUM-MAGNESIUM HYDROXYCITRIC ACID: Carne Diem forces your muscles to favor fatty acid oxidation as fuel while preserving glycogen through the inclusion of the most effective form of HCA – Potassium-Magnesium Hydroxycitric acid. This ingredient not only facilitates rapid fat loss, it also ensures your muscles do not flatten out and look smooth.